November 11, 2020 – 11 a.m.
The East Valley Veterans Parade provides an opportunity for the community to gather in honoring, thanking and celebrating local Veterans, active Military, and their families.
2019 East Valley Veterans Parade Winners
GRAND MARSHAL'S AWARD
Westwood High School Air Force JROTC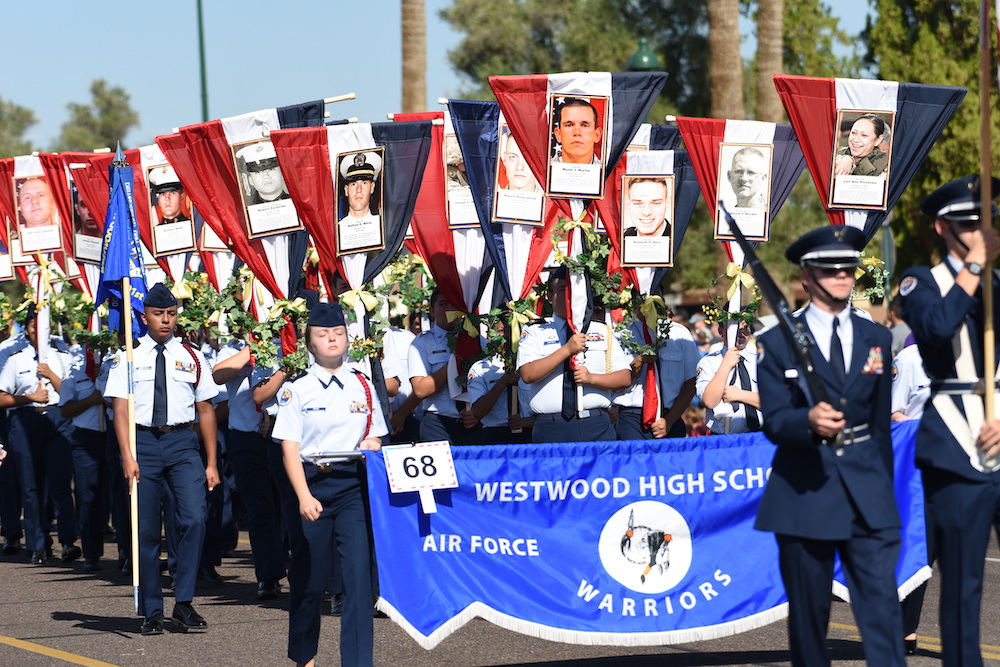 PRESIDENT'S AWARD
Dode Morris VFW Post 1760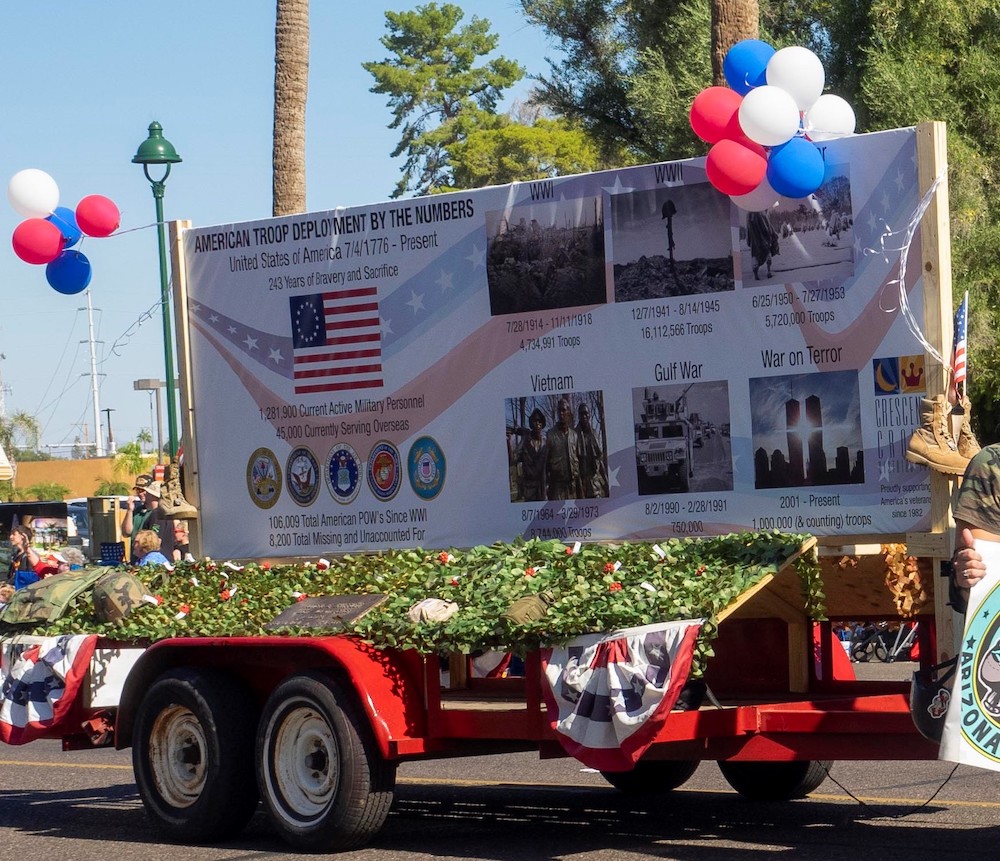 KILROY AWARD
Best Use of Theme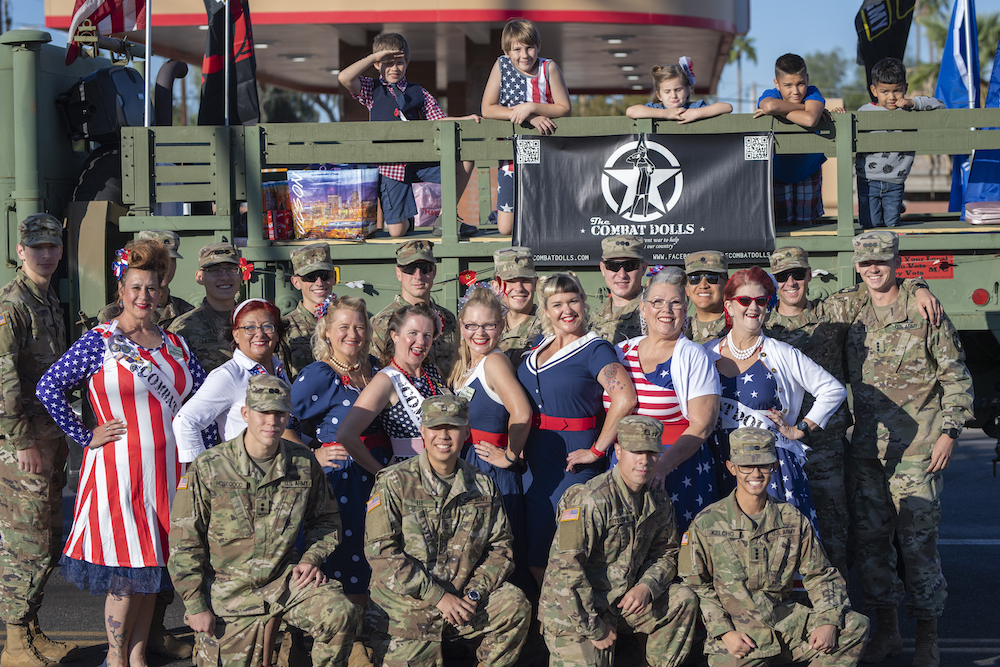 FRANCIS SCOTT KEY AWARD
Best Musical Entry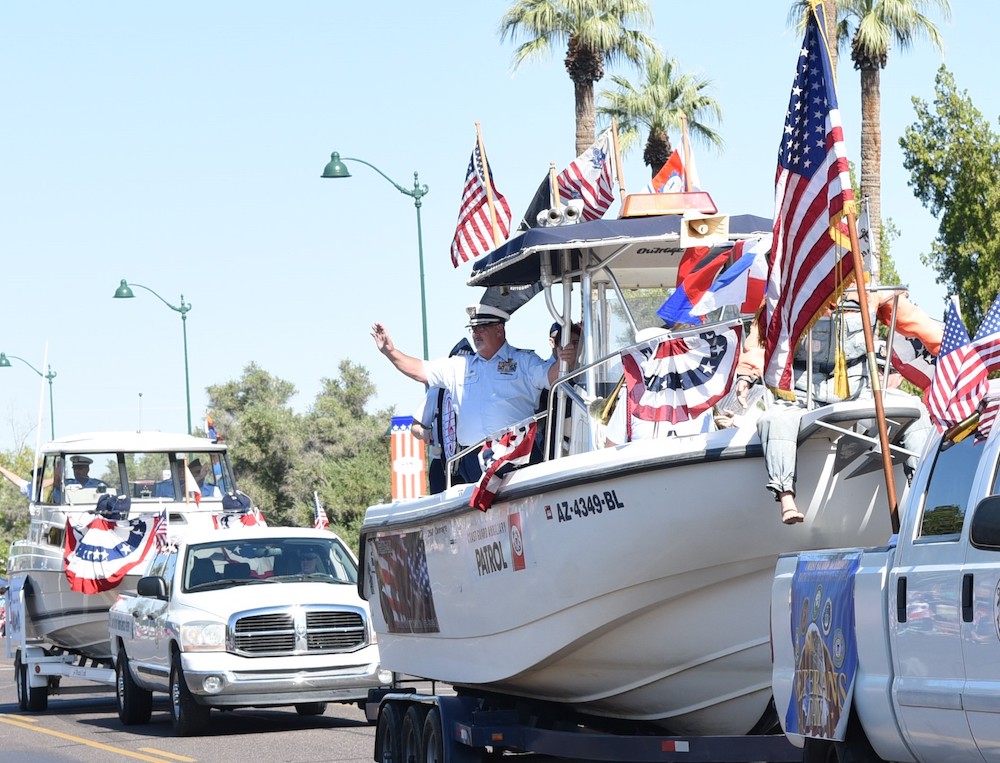 RED, WHITE & BLUE AWARD
Most Patriotic Entry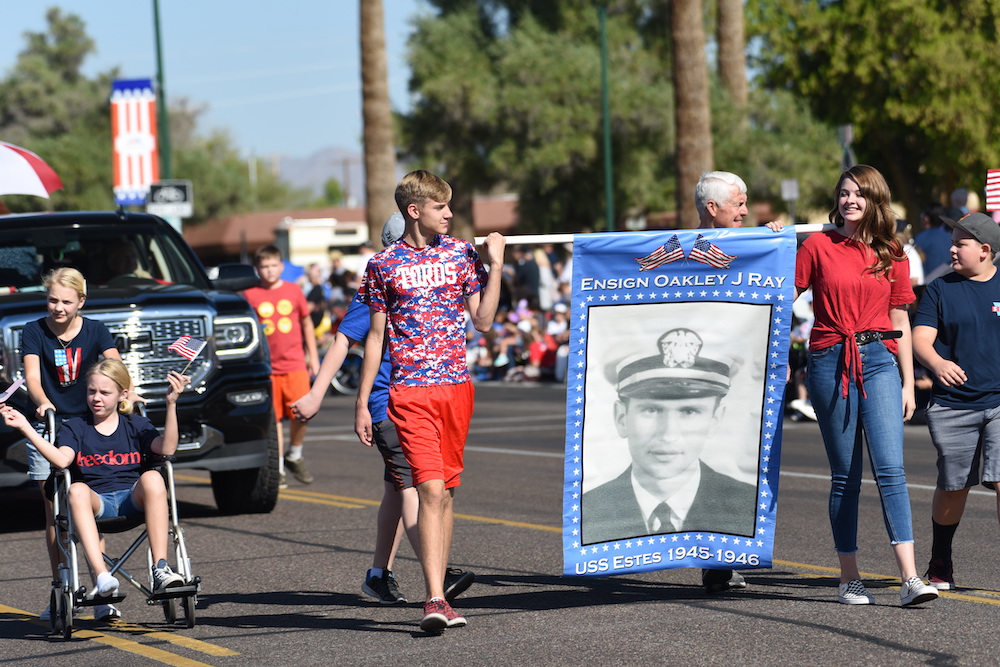 MOTOR POOL AWARD
Best Vehicular Entry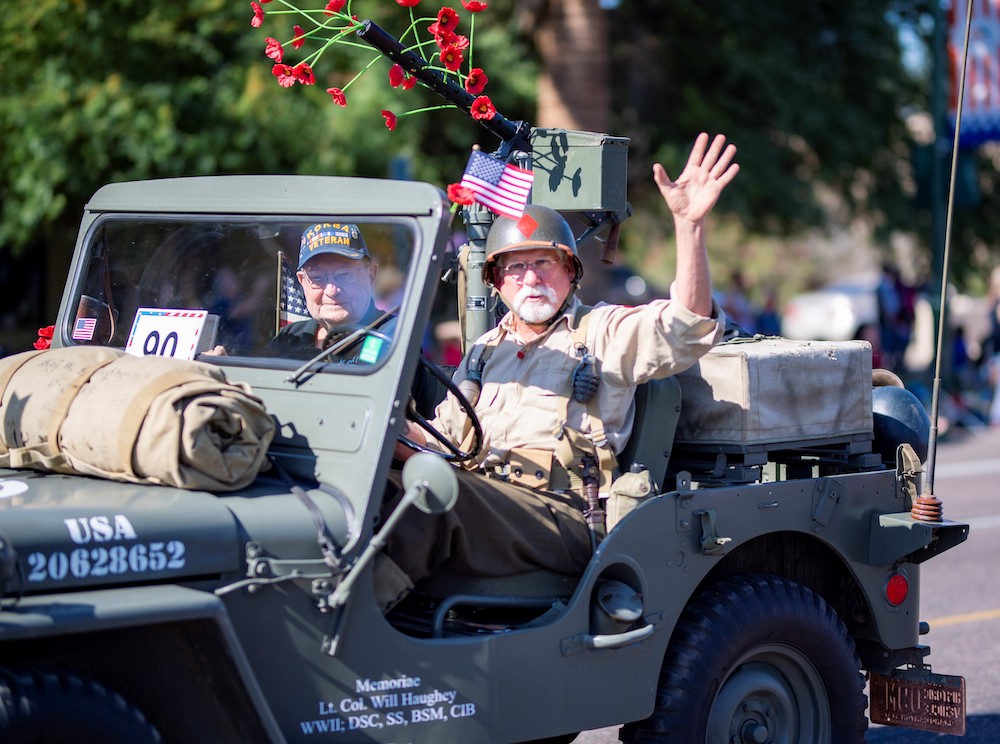 RECRUIT AWARD
Best Youth Entry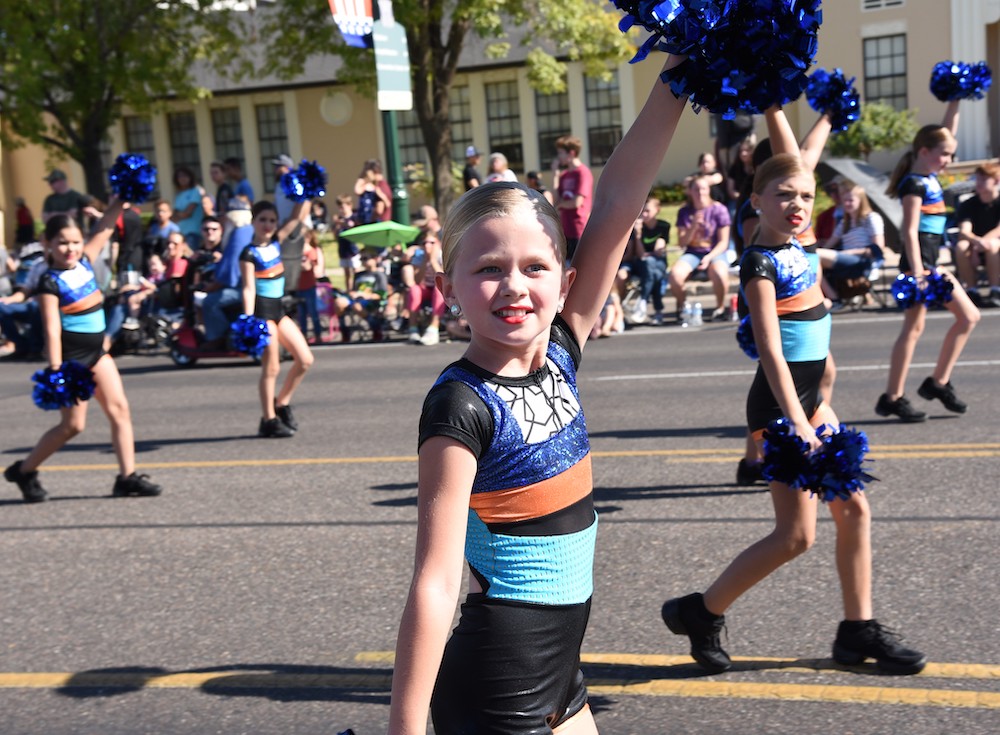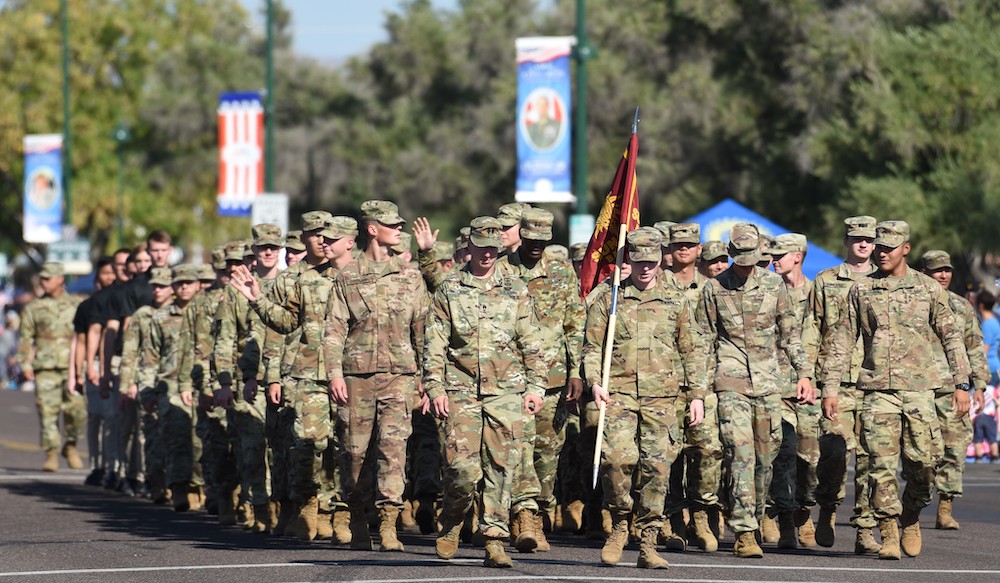 CAVALRY AWARD
Best Best Animal Entry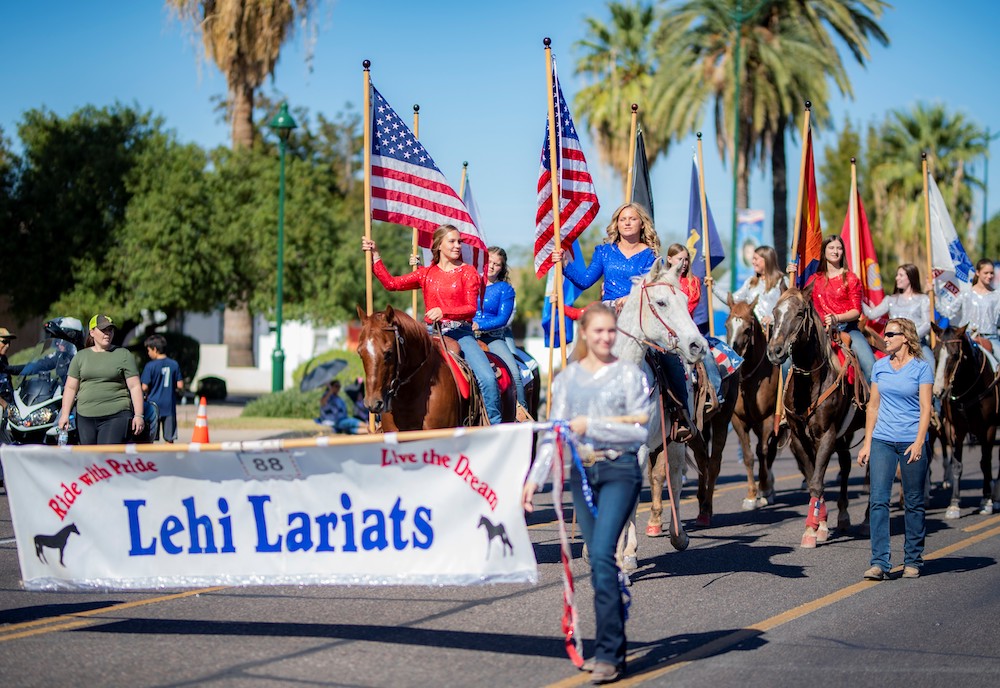 2019 East Valley Veterans Parade Service Marshals
The East Valley Veterans Parade Association is pleased to present the Grand Marshal and Service Marshals for the 2019 Veterans Parade.  We extend a heartfelt thank you to our Service Marshals, and to the millions of Veterans they represent, for their service to our Country.
Please click here
to visit our Marshals page to read their bios and learn more about their service.
2019 East Valley Veterans Parade Theme: Commemorate and Celebrate
COMMEMORATE AND CELEBRATE
This year our Parade Theme will be Commemorate and Celebrate as we pay tribute to two significant mile markers in history.  We commemorate 75 years since D-Day, a turning point during World War II.  We also celebrate the 100th year of observing Veterans Day, established in 1919 as Armistice Day.
On June 6, 1944, Supreme Allied Commander General Dwight D. Eisenhower gave the go-ahead for the largest amphibious military operation in history.  Operation Overload, more commonly known as D-Day, was the Allied invasion of northern France.  By daybreak, over 18,000 British and American parachutists were on the ground, with an additional 13,000 aircraft providing air cover and support.  At 6:30 am, American troops came ashore at Utah and Omaha beaches, while British and Canadian troops landed at Gold, Juno and Sword beaches.  By day's end, 155,000 Allied troops had successfully stormed Normandy's beaches and were able to push inland, opening a second front against Germany.  The heroism and bravery displayed by Allied troops changed the course of World War II.
In November 1918, Allied powers signed a ceasefire agreement with Germany at Rethondes, France, at 11:00 a.m. bringing the war now known as World War I to a close.  One year later on November 11, 1919, President Wilson proclaimed the first Armistice Day with these words: "To us in America, the reflections of Armistice Day will be filled with solemn pride in the heroism of those who died in the country's service and with gratitude for the victory…"  The celebration included parades and public meetings, as well as a suspension of business at 11:00 a.m.  Between the world wars, November 11 was observed as Armistice Day, but after World War II, the holiday was recognized as a day of tribute to veterans of both wars.  In 1954, after the return of veterans from both World War II and the Korean War, President Eisenhower signed a bill rededicating November 11 as Veterans Day and encouraged Americans to commit themselves to the cause of peace and to honor America's veterans for their courage, honor, patriotism and sacrifice.
Please join us this year at the 11th hour of the 11th day of the 11th month to Commemorate D-Day and Celebrate Veterans Day.

Our Sponsors
The East Valley Veterans Parade Association extends a heartfelt thank you to our sponsors for providing the means to produce the grandest parade in the East Valley.
I Fought For You
Veterans answered the call of duty for God, for Country, for Righteousness sake. They "Fought For You". This is their call, their mantra: "I Fought For You".
This authorized copy of the 2010 viral hit "I Fought For You" by The Soundtank and C47Films.com is on loan to the great people of Mesa Arizona and the East Valley Veterans' Parade. We're proud to support our vets and grateful for their dedication and service.
Find the original, for sale version of I Fought For You at www.SermonSpice.com
Never Forgetting... Always Honoring