Thursday, November 11, 2021 – 11 a.m. – 2 p.m.
The East Valley Veterans Parade provides an opportunity for the community to gather in honoring, thanking and celebrating local Veterans, active Military, and their families.
2021 East Valley Veterans Parade Theme: Wartime Art & Artists
Art & War
Art and War – what's the connection, you might ask?  That is the initial reaction of many, but explore it further and the relationship becomes obvious.  From direct to indirect associations, let's look at how Art and War have aligned over the years-
Who hasn't seen the iconic Memphis Belle on the Boeing B-17 Flying Fortress?

 

Nose art is probably the first connection the leaps to mind.

 

While frequently employing the image of women, nose art oft consisted of ominous messages to our enemies.
T-walls became the palette of the modern warrior artist. Coming into prominence during the conflicts in the middle east, these concrete barriers are used for a variety of purposes.

 

From small walls at traffic control points to giant retaining walls to protect against deadly threats like IEDs, T-walls are an everyday sight.

 

Their stark gray appearance is in invitation to the murals that inevitably followed.
"Uncle Sam Wants You" or "Buy War Bonds" – again some iconic art that many are familiar with.

 

Posters during World War II were designed to instill a positive outlook, a sense of patriotism and confidence. They linked the war in trenches with the war at home and were used to encourage all Americans to help with the war effort.
Trench art is a term used to describe objects made from the debris and by-products of modern warfare.

 

Often trench art was made to pass the time in a "hurry up and wait" environment.
Even Kilroy, the 'meme before memes', is a form of graffiti art.

 

He popped up in many places, in many variations, and still does today.
But perhaps a most meaningful connection of art and war is the therapeutic value of art to our warriors.  It can help us deal with strong emotions, increase self-awareness and self-worth and decrease stress and anxiety.  As our veterans deal with post-service challenges, art can play a key role in helping the healing process.
So – art and war – how does this connect for you?
Join us on November 11 for the 2021 East Valley Veterans Day Parade and show us your art!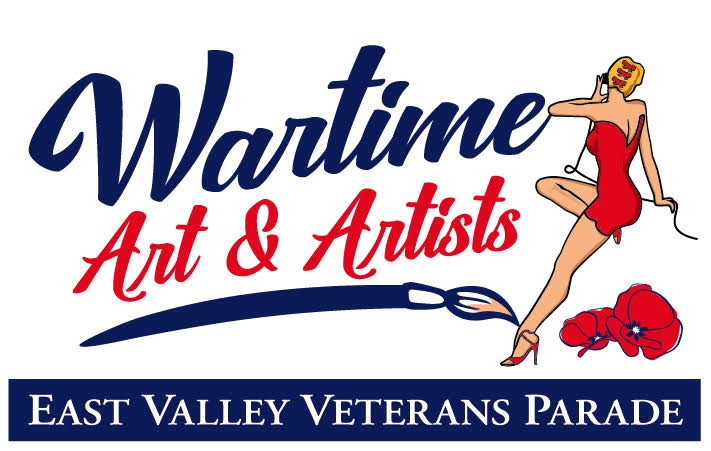 2021 East Valley Veterans Parade Service Marshals
The East Valley Veterans Parade Association is pleased to present the Grand Marshal and Service Marshals for the 2021 Veterans Parade.  We extend a heartfelt thank you to our Service Marshals, and to the millions of Veterans they represent, for their service to our Country.
Please click here
to visit our Marshals page to read their bios and learn more about their service.